Last Thursday, weekly jobless insurance claims came in at 312,000. That coupled with previously reported claims has pretty much solidified the fact that we are now at pre-recession levels for first-time workers collecting unemployment insurance; as noted by this chart from the folks at ZeroHedge.com:
Click on image to zoom
Unfortunately, this trend may be short lived.
This month it was reported that the economy failed to grow in the first quarter; actually shrinking by one percent. Should this be repeated in the second quarter, it could officially signal another recession. But, as most economists will tell you, unemployment is usually a lagging indicator; meaning that, if we do slide into another recession, it will take management another 6 months or so to lay enough people off for the weekly claims number to be negatively impacted.
Now, there is a monthly report that could give us insight into future job losses. That report is the Job-loss notification as prepared by the firm of Challenger, Gray, and Christmas. In short, the Challenger Report takes advantage of a Federal law -- the Worker Adjustment and Retraining Notification Act or simply the WARN Act -- which mandates that any company, with 100 employees or more, must publicly report, at least 60 days in advance, any possible cuts or layoffs. This month, Challenger's ongoing report looked liked this:
Click to zoom
As you can clearly see, except for February, March and August of 2013, the reported job cut announcements stayed comfortably below 46,000; and, even hitting nice lows in December 2013 and March 2014. If you could visually trend that data, you can see that there is actually a nice downward slope but, in May there was a spike that was almost as severe as the one in February of 2013. And, to me, this upward spike is consistent with the fact that corporations saw a
$213 billion loss of profits
in the first quarter of this year and were now, in May, adjusting down their labor forces so as regain or protect any further loss.
Challenger, itself, disclaims the fact that job reduction announcements don't necessarily result in immediate cuts. After all, their data represents a 60-day notification that may take months to fully implement. For that reason, many economists don't have too much confidence in the report. However, if you look at the following, Challenger does do a pretty good job in giving some advance notice: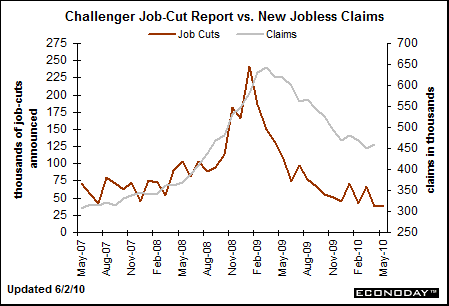 Click on image to zoom
Of particular note on this chart, the Challenger data showed a rise of recession-era job cut notifications a full 3 months prior to the actual peaking in claims. While the charting is not as tight as it was in the months prior to the "peak," the trend is obviously still there.
All I'm saying is that particular attention should be paid to the June Challenger report. It could very well tell us if the leveling-off in jobless claims will continue or, if instead, we are at the verge of another recession.
References:
Warn Act:
http://en.wikipedia.org/wiki/Worker_Adjustment_and_Retraining_Notification_Act
May US Challenger layoffs 52,961 vs 40,298 prior:
http://www.forexlive.com/blog/2014/06/05/may-2014-us-challenger-layoffs-data-report-5-june-2014/