Job "one" for every state Governor -- and, certainly, every President -- is to do whatever is best for the people they serve. But, according to Barack Obama, Governor Rick Perry of Texas is failing one million of his people by not allowing the expansion of Medicaid under ObamaCare in his state. But is he?
Actually, by not allowing the expansion of Medicaid, Rick Perry is best serving his people.
Medicaid is the worst possible insurance a person could have. It sorely underpays healthcare providers, and therefore many of them won't accept Medicaid patients; leaving those people with second or, even, third class healthcare access. Texas is no exception. For proof look at this chart from the Texas Medical Association.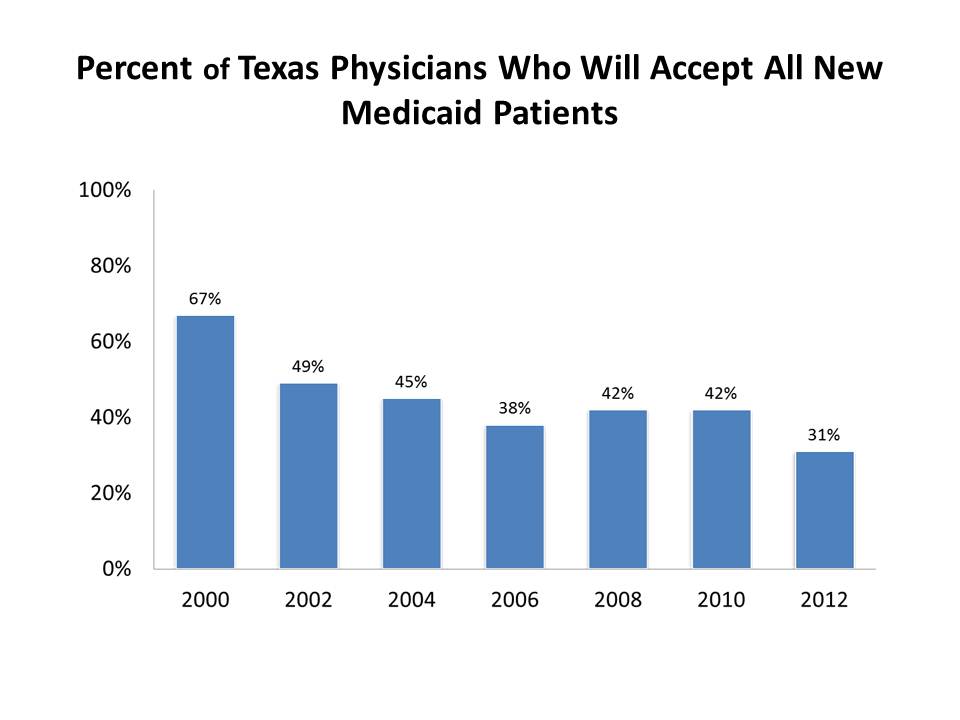 As shown, fewer and fewer doctors can afford to take on new medicaid patients. Others have dropped them completely; and, across the nation only about 56% of all doctors -- pre-ObamaCare -- accepted Medicaid, and, this chart stops at 2012. Who knows what the number is today or would have been if Medicaid was expanded in Texas. It's quite possible that it would show less than 20% participation or perhaps nearer to zero.
So, who is more irresponsible? Perry for not giving his people a 'mirage' of believing they have healthcare, or Obama, who just wants to play a political numbers game by forcing a million Texans onto a system that is already broken and sure to be even more so if it is expanded?
References:
Obama says Perry's opposition to Medicaid expansion is 'bullheadedness':
http://www.star-telegram.com/2013/11/06/5312489/obama-is-on-his-way-to-texas-for.html
Drop in Physician Acceptance of Medicaid, Medicare Patients:
http://www.texmed.org/template.aspx?id=24764